September 28, 2022

Charlotte, N.C./Sept. 28, 2022 – Taequan Owens '20 found himself immersed in music at a young age.

By the time he was 8 years old, he was being paid to perform, playing the drums and singing in churches throughout the area. He continued to be involved in music throughout high school and college, and left JCSU with several collegiate choir accomplishments.
Image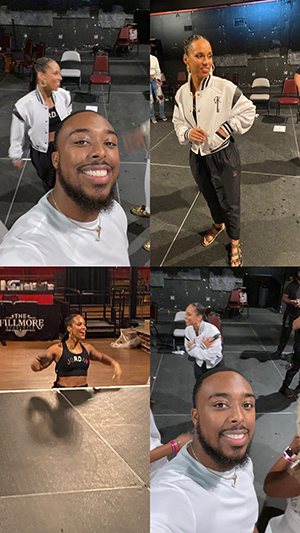 But the young JCSU alumnus didn't realize that his lifelong passion would lead him to opportunities to meet and sing with Grammy award-winning artists Alicia Keys and Swizz Beatz.

"I have been a fan of Alicia Keys for a while," said Owens, who earned a Business Administration degree while at JCSU. "To be able to talk to her and actually have a conversation was a wonderful feeling. It will be a great story to tell for the rest of my life."

Owens was invited to sing at Alicia Keys' concert in Charlotte on Aug. 2 by Dennis Reed, a musician and singer who has worked with a number of artists, including Fantasia, Bebe Winans and Justin Timberlake. 

But Owens said his connection to Reed started right here at Johnson C. Smith University with Frank McGinnis Jr., who works as an accompanist at the University. After graduating, Owens continued to work with McGinnis at Friendship Missionary Baptist Church on Beatties Ford Rd. 

While he gives all honor and glory for his opportunities to God first and foremost, he also credits McGinnis alongside Dr. Shawn-Allyce White, director of Choral Activities, and Dr. Frank Williams, another University accompanist, for helping him hone his craft and continuing to be mentors who say his name in rooms crowded with important people.

"I've very grateful to God for his guidance and his blessings, and I don't know what I'd do without Him," he said. "I'm grateful to all three of my mentors. It's these types of leaders who help push another generation into excellence to give us opportunities to work with people in the industry. It takes a network to get where you dream to be."

White said Owens' talents speak for themselves. 

While at JCSU, he was selected as a tenor soloist during the HBCU-9 United Sesquicentennial Choir Concert at Morgan State University and at the American Choral Directors Association's Southern Regional Conference of the HBCU Concert Choir in Mobile, Ala. 

His commitment to music and Johnson C. Smith hasn't stopped since he crossed the stage.

"Mr. Owens continues to be featured as tenor soloist for University and community events," said White. "It has been my esteemed pleasure as a voice teacher and Concert Choir Director to follow Taequan's development and achievements as an excellent performer. I applaud his later accomplishment as a featured backup singer for the renowned Alicia Keys during her recent live performance in Charlotte."

While on stage with Keys, Owens said he felt the all-too-familiar feeling of belonging. The moment was pivotal for him as a performer and has even caused him to think about the possibility of a career change.

At the time, he was working in Raleigh with the Department of Justice but decided to take a break to reconsider his path.

"Being that I was a business major, I'd like to be an entrepreneur," he said. "I can own my own business and allow that to be my capital – my bread and butter – but music is something I can pursue to feed my soul. After all, what is financial stability if you don't have peace of mind?"

Owens urges performers seeking to sing with well-known artists to take the time and network, maximize every opportunity and never take anything for granted.

He said by doing this, future performers are building a solid pathway of success for not only themselves, but the many musicians and singers to come after them.

For now, Owens is focusing on becoming the artist he wants to be – someone who does what they love to their own satisfaction, not to anyone else's standards.

"I'm really big on timing," he said. "When that time comes, I want to be ready like a freight train rolling down a hill. I'm doing that now. From here on out, I'm going to be gearing my aspirations toward what is going to bring me joy."