September 14, 2022

Discussion during Sifford Thought Leadership Conference Centered Around the Importance of HBCU Partnerships
CHARLOTTE, N.C./Sept. 21, 2022 – Hundreds of guests gathered at Knight Theater Wednesday to discuss diversity in golf as a part of the Charlie Sifford Centennial celebration and to kick off the week-long Presidents Cup tournament.
As a part of the diversity, equity and inclusion discussion, President Clarence D. Armbrister and Miss JCSU Essence Winston joined Florida Sen. Shevrin Jones to discuss the importance of including HBCUs in partnerships and employment pipelines to further diversity, not just in the golfing industry, but all facets of business.
Image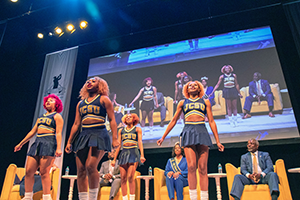 "One thing I hope you do after this conversation is bring HBCUs to the consciousness of your thinking in everything you do," said Armbrister. "We hope businesses like yours will think of HBCUs for your employment needs."
The panel, which was moderated by Alex Baldwin of Korn Ferry Tour, featured a performance from the JCSU Luv-a-Bulls, and exciting conversation around the future of HBCUs and diversity, equity and inclusion.
Winston was asked specifically about her journey, to which she replied, "going to JCSU was the best decision of my life."
She grew up in a predominately white neighborhood, and was just one of two Black students in her graduating high school class. She said she is excited about the opportunities JCSU has afforded her over the years, and knows that JCSU is fulfilling its promise of graduating the next wave of influential leaders.
Image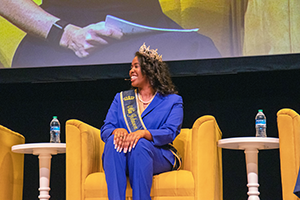 "Diversity and inclusion are such an important part of educational experiences," she said. "I've had several opportunities at Johnson C. Smith University. I've worked with Coca-Cola Consolidated, met with the governor of North Carolina, sat in on City Council meetings with Mayor Vi Lyles and sat a few feet away from President Joe Biden. Through experiences like these, JCSU is building future Black leaders."
Jones commended Armbrister for the work Johnson C. Smith University was doing alongside the community to fulfill Mayor Lyles' Racial Equity Initiative, and was excited to learn that the community had come together with long-term partners like The Duke Endowment to support the University.
"HBCUs have always been underfunded, but we've managed," said Jones, who also serves on President Biden's Board of Advisors on HBCUs. "When HBCUs thrive, the predominately white institutions thrive, our technical colleges thrive and America thrives."
Following the panel, PGA TOUR Commissioner Jay Monahan announced it would be dedicating $575,000 to the Mayor's Racial Equity Initiative. Monahan explained the gift is meant to further the PGA's commitment to diversifying the game of golf.