October 25, 2022

Charlotte, N.C./Oct. 25, 2022 – Johnson C. Smith University celebrated the dedication of the Blue Cross and Blue Shield of North Carolina (Blue Cross NC) aquaponics greenhouses at its Sustainability Village during a ceremony on Friday.

Aquaponics is soil-less system for growing, making it an ideal way to grow food in urban areas like Charlotte. The system uses fish which create a fertilizer that can be recycled continuously throughout the growing system. At the time of the dedication ceremony, JCSU aquaponics greenhouse had 530 fish. 

Dr. Mark A. Dugo, director of the Center for Renewable Energy and Sustainability and assistant professor of Ecology, says the donation from Blue Cross NC will help provide students with hands-on experience with using a unique form of planting.

"These aquaponics greenhouses will provide experiential learning opportunities as well as research and training for our students," said Dugo. "This donation will also increase our capacity for production ten-fold. It will allow us to transform what is now an urban garden into an urban farm."

"Since our initial investment nearly a decade ago, we've watched the Sustainability Village grow and thrive within the JCSU community," said Cheryl Parquet, director, community engagement and marketing activation at Blue Cross NC. "By addressing food insecurity in West Charlotte through innovative, sustainable practices, we're giving more North Carolinians the opportunity to be healthy."

Originally funded through the generous support of Blue Cross NC and The Duke Endowment, JCSU's Sustainability Village garden was envisioned as an applied research and community development project aimed at addressing food insecurity around the University.

In 2018, Blue Cross NC funded the expansion of two hydroponic buildings and one aquaponic building. In 2022, the company provided another contribution to complete the electrical requirements to address the cost increases of construction during the pandemic.
Image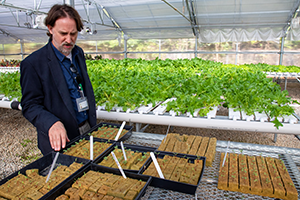 The aquaponics greenhouses are located with Sustainability Village, a space that was founded to not only teach students the process of growing their own food, but to also address food insecurity in the Historic West End.
According to Dugo, the west end was a food desert just three to five years ago, meaning it was an urban area where it was difficult to buy affordable and high-quality fresh food. He aspires to expand the program, thanks to the donation from Blue Cross NC and long-time partners like the Duke Endowment. 

Because this system will allow for eight to 10 times more production, Dugo says the greenhouses will produce enough to allow JCSU to partner with Farm to Fork, a program that connects small farmers to local schools and restaurants. 
He also hopes to open a farmer's market in Sustainability Village.  

"It is difficult to find the words that can accurately describe the profound gratitude I feel for these gifts. The institution of our size is very fortunate to have the Center for Renewable Energy and sustainability (CRES) and staff to operate the center," said Dr. Vijaya Gompa, dean of the College of STEM at JCSU This is not possible without the generosity of our donors. Every gift made to CRES and Sustainability Village (SV) had an incredible positive impact for the faculty, staff, students and community."
--
Questions about this article? Email Gabrielle Isaac Allison at gallison@jcsu.edu.