January 26, 2023

Charlotte, N.C./Jan. 25, 2023 - Johnson C. Smith University hosted a panel discussion on the history and impact of George Gershwin's "Porgy and Bess" in Biddle Hall's Gambrell Auditorium.

Panelists included cast members of Opera Carolina's "Porgy and Bess" production, Kenneth Overton and Dr. Sequina Dubose; Dr. Barbara Buck, longtime singer and music educator; and JCSU's own Dr. Shawn-Allyce White, associate professor of Music and director of Choral Activities.

Each of the panelists had, at one time, performed a part in Gershwin's "Porgy and Bess."

The panel was moderated by Dr. Naomi Andre, Distinguished Professor of Music at the University of North Carolina Chapel Hill and National Humanities Center Fellow. She opened the discussion with a history of Gershwin's production.
Image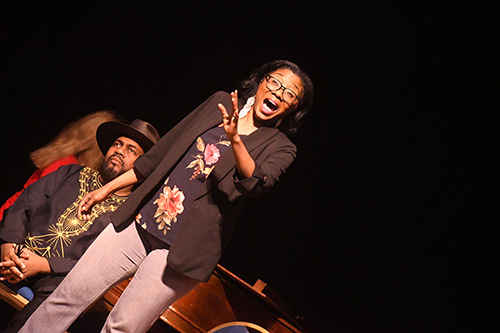 "Porgy and Bess" is a 1935 English-language opera by Gershwin, with a libretto written by author DuBose Heyward and lyricist Ira Gershwin. It was adapted from Dorothy Heyward and DuBose Heyward's play "Porgy," itself an adaptation of DuBose Heyward's 1925 novel of the same name.

Andre discussed the criticism of the opera's representation of Black culture and life, but praised that the Gershwin estate had created standards for future American productions which require directors to hire actors of the same race as the character they will play.

Overall, the panelists discussed some of these criticisms alongside some of their own personal experiences performing the show. Dubose and Lamar Davis, another cast member of the Opera Charlotte production, even performed some of the pieces at the event. 

Two showings of Opera Carolina's "Porgy and Bess" remain, one on Thursday, Jan. 26 and one on Saturday, Jan. 28. The show will be performed live at Belk Theatre in Charlotte, N.C. Click here to purchase tickets for the performance online.