May 30, 2023

Charlotte, N.C./May 30, 2023 - When Dr. Ruth Greene began her journey at Johnson C. Smith University in 1979, she had no idea the legacies she would light along the way.

Now officially named one of the few professors emerita in the University's history following her May 2023 retirement after 44 years of service as a professor, grantsman, researcher and mentor, Greene looks back on her time at JCSU fondly.

"I made a conscious decision early on in my career to teach at a historically black college," she said. "I had gone to one, and professors there had nurtured me and helped me see that there was no limit to my potential. Teaching at JCSU allowed me to give back to my students. It has been a wonderful place to work and an excellence place to conduct research."
Image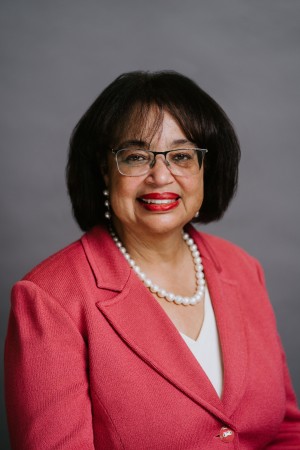 Greene earned her undergraduate degree from Morgan State University in Baltimore in 1970 and her Master of Arts degree in 1972 from Michigan State University. She earned a Doctor of Education degree from the University of Massachusetts in 1975. 

After joining the faculty at JCSU four years later, she began a deep dive into grantsmanship, becoming one of the University's most successful grantsman in the University's history and a storied researcher.

Some of her most notable accomplishments include attending the International Research Training Program, working with the National Institute on Aging on the topic of African-American caregivers and medication administration and serving as an advisor for the University's McNair Scholars. She's been awarded the Par Excellence in Teaching award at JCSU, along with numerous others from the University and civic organizations in which she participated in.

She also helped found the Charlotte Area Network for the Teaching of Psychology and was heavily involved in the Charlotte City Center Partners, a civic group that works to make the Queen City one of the strongest regions in the state. 

However, Greene will be the first to say the hallmark of her career is the students she has mentored.

"I am proud of the accomplishments of our psychology graduates who have gone on to graduate and professional school, who have been awarded prestigious fellowships, scholarships and research awards and other who are performing expertly in their various careers," she said.  

Greene recently became the first professor from an HBCU to win the Southeastern Psychological Association's Mentor Award for her tireless dedication to her students. 

She said her love for mentorship came from being surrounded by mentors herself as a child. As the youngest of 10 children, Greene said she certainly had a number of family members who guided her along the way.

But she also found strong mentors in her teachers and community members. These strong Black mentors helped Greene understand that she could learn without limits, which is why she vowed to take her educational expertise to an HBCU to benefit young Black scholars.

Scholars like Madison Booker-Smith '23, a Psychology major and African-American Studies minor who credits Greene for encouraging her to expand her opportunities before graduating.

Thanks to Greene's mentorship, Booker-Smith participated in the UNC-Chapel Hill Moore Undergraduate Research Apprentice Program in the Summer of 2022 where she researched colorism and its impact on racial bias.  

"My tenure with Dr. Greene as a mentor was both pleasant and informative, but also built the foundation for my current stance in academia and with other endeavors," said Booker-Smith. "Since working with Dr. Greene, I have been a part of three additional research projects and feel better prepared for graduate studies."

Greene said she follows a structured, evidence-based mentoring process that holds students accountable to their research group. She said the mentorship she engages in develops the student holistically, impacting their professional, social and personal development.

"Mentors are mentoring individuals who may have never thought they had the abilities or the opportunities to succeed," she said. "Mentors are those people who have the time and patience to help someone succeed in all aspects of their lives."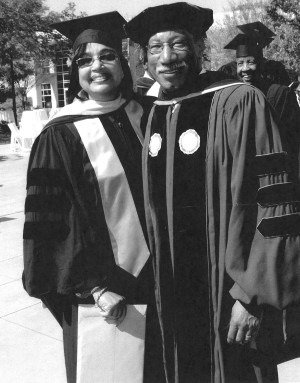 Upon the announcement of her impending retirement, several students wrote letters to Greene to thank her for her mentorship and research assistance and congratulate her on a job well done.

But she also garnered the praise of several faculty members and administration throughout her years as a professor at JCSU. In 1993, the late Dr. Robert Albright, 11th president of JCSU, wrote a four-page recommendation for Greene's application into the Kellogg National Fellowship Program.
"From my earliest days on this campus, I was struck by the consummate professionalism and deep commitment to academic excellence exhibited by Dr. Greene," wrote Albright. "She has worked hard to advance herself; she has been a superb and effective teacher and role model; and she has been a seriously committed community advocate and worker."

Fellow faculty members at JCSU and beyond have also benefitted from learning from Greene's mentorship and grantsmanship knowledge.

"Dr. Greene's passion and commitment to the mentorship of early career faculty members and undergraduate students is unwavering and an inspiration," said Dr. Douglas Cooper, assistant professor of Psychology at JCSU. "She has an innate ability to recognize the potential and shape the career ambitions of students, and a commitment to helping her colleagues develop into mentors themselves." 

Greene can add another first to her lists: the newest professor emerita for the University. Greene was notified that the recommendation given by her department chair, Dr. Timothy Champion; her dean, Dr. Patrick Martin; and the senior vice president for Academic Affairs and Chief Academic Officer Dr. Karen D. Morgan was accepted and approved by the Board of Trustees.

She was honored at the 2023 faculty luncheon with a plaque, and recognized at the 2023 commencement ceremony for her achievements.

Greene says her position as a professor emerita will allow her to continue researching and mentoring at her own pace. She said she will continue to use her off seasons in the Summer and during various breaks to travel and spend time with family.