July 5, 2022
Image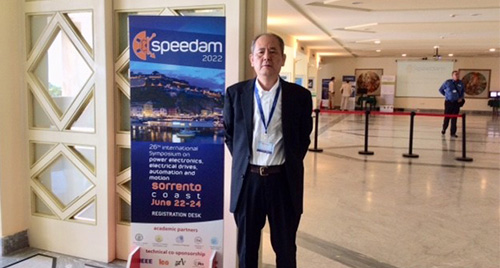 CHARLOTTE, N.C. / July 5, 2022 – JCSU said "ciao" to Dr. Ying Bai, professor of Computer Science and Engineering, in late June as he headed to present his paper in Sorrento, Italy. 
Bai learned in April that his paper had been chosen for the 2022 SPEEDAM conference, an international conference focusing on power electronics, electrical drives, automation and motion.
His paper focuses on the use of an adapted Neuro fuzzy interface system that could improve the calibration accuracy of modeless robots. 
"I looked forward to presenting my paper to promote JCSU world-wide," said Bai. "Overall, it was very successful, and I was able to visit some interesting places, including Amalfi, Naples and Sorrento."
Bai has worked at JCSU for more than 20 years. He says he values the good teaching environment, friendly colleagues and strong leadership at the University.
Not only has Bai written this paper, but he's also written nearly 20 books on various Computer Science subjects, including programming with a SQL Server and Oracle database via a Java programming language. He is working on a 20th book that will be published in 2023.
Research and presentations like Bai's are important to promoting learning and discovery among academics around the world. According to Dr. Vijaya Gompa, dean of the College of STEM, research like Bai's can also benefit students and enhance teaching at JCSU.
"Dr. Bai is a dedicated teacher and a very productive scholar and author," said Gompa. "Since 2003, he has presented and published more than 65 papers, including international journal and conference papers. He represents JCSU very well and brought positive attention and visibility to us."