June 16, 2020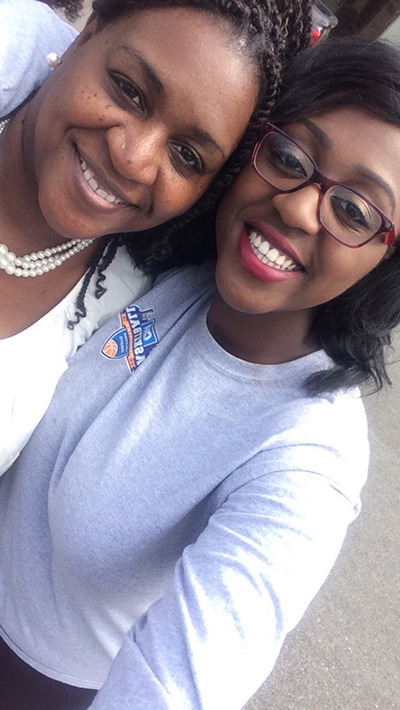 Charlotte, N.C. / June 16, 2020 - Gracyn Doctor '16 was enjoying the summer before beginning her senior year at JCSU when bullets from the white supremacist's gun changed her life forever. Doctor's mother, Rev. DePayne Middleton-Doctor, was one of the nine parishioners killed in the massacre at Emanuel AME Church. Doctor said the intense news coverage of African Americans killed recently in incidents fueled by racism has reminded her of the reason her mother was murdered five years ago. 
"These last weeks leading up to June 17 have been really hard, especially this past weekend," Doctor said. "It's painful to watch everything that's going on. It's hurtful, and it makes me angry because it brings back feelings of when I lost my mom."
Doctor said she's also angry because the nation still hasn't faced the issue of racism, and Black people continue to be killed because of racism in 2020. "After the shooting, I realized that much of the public's anger about the shooting was because it happened in a church and not because it was a result of racism," she said. "It's been five years, and instead of getting better, it seems as if the problem is getting worse – we're going backwards. It makes me even sadder because we're going in reverse."
Returning to JCSU for her senior year in August 2015 helped Doctor keep her mind off the painful event. She was a standout volleyball student-athlete and worked as a sports information intern. Doctor was determined to graduate because she knew it was important to her mom, and the support she received on campus helped her get through the year, she said. 
"Everyone came together and supported me," said Doctor. "My JCSU family really took care of me during my senior year. It definitely made it easier for me to get through that time.  I'll always be grateful for Coach (Mark) Raley and my professors, and I appreciate everything the student body, faculty and staff did for me."
The Athletics department arranged for the October 1, 2015, volleyball match against Johnson and Wales University to be designated as the Purple Match of Honor because Doctor's sister, Kaylin, was a freshman on JWU's team. During the match held at JCSU, the two teams exchanged gifts of roses and held a moment of silence in honor of Rev. Middleton-Doctor. Fans wore purple and held signs with anti-hate and anti-violence messages. Doctor said it was a part of the healing process for her and her sister. 
"The purple game was cool because it's the first time Kaylin and I had played against each other officially," she said. "It made me feel good that the campus community attended and showed their support for my sister and me. It was important to me that everyone embraced the stand against violence and hatred by wearing purple." 
Doctor, who plans to pursue a career in public radio, is currently earning a master's degree in communications at Syracuse University. She took time after graduating from JCSU to process how her mother being killed had impacted her. 
"After I graduated, I took a break from work and school," Doctor said. "That's when reality set in. I had been going through the motions and phases of emotions to get through my senior year. But it became real when I had time to sit and think about it. Not having anything to take my mind off my feelings made me lose everything."
Doctor said she lost her way for a while, but she made up her mind to make a good life for herself and to set a good example for her three younger sisters. "I was determined not to let it take over my life and be my entire story. I thought about my three sisters and wanted to set a good example for them. I wanted to show them that things were hard but we would get through it."
Doctor said she's thinking about her mother's legacy on this five-year anniversary of the mass murder in the church affectionately known as Mother Emanuel. 
"What's on my mind five years later is how my family came together during that time," said Doctor. My mom was the glue that kept our family and extended family together. I'm glad we've remained strong for her. I also remember how people in Charleston reached out to my family and showed support. I will never forget some of the stories they told me about how my mom helped them. I proud of the way she touched so many lives."