November 3, 2022

CHARLOTTE, N.C. / Nov. 3, 2022 – Kayla Jenkins '22, a Biology major with a minor in Sustainability, quickly became interested in research after her first full year at Johnson C. Smith University.
Her interest landed her in a summer research program at Stanford University, where she began studying transplant immunology with hopes of one day studying an immunodeficient disease she struggles with herself – type 1 diabetes. 
"My own personal experience with this disease has really driven my whole purpose," she said. "Diabetes doesn't care if you're sleeping, having fun with your friends or even pregnant. There's never a time when you aren't thinking about your blood sugar, which is frustrating. I'm putting my frustration toward my research so that one day I can be a part of the generation that sees a cure for this disease."
Jenkins knew that, in order to start a career as a biomedical researcher, she would need to earn her Ph.D. She also knew that Ph.D. programs look for research experience. So, she decided to apply to Yale and Duke, but was ultimately accepted into Stanford's summer research program.
Her summer research focused on finding a way to profile a patient's immune system to be able to predict if and when someone may reject an organ. 
This work, as well as any research into immunodeficiency, impacts everyone, but especially the Black community. According to the U.S. Department of Health and Human Services, 28.5 percent of people on the transplant waiting list are Black. Chronic diseases such as diabetes and high blood pressure are also statistically more prevalent in the Black community. 
In order to profile the immune system, Jenkins used a mass spectrometer, a device used to separate the ions from a sample to produce a spectrum pattern chart that can be used to more closely examine the sample.
Image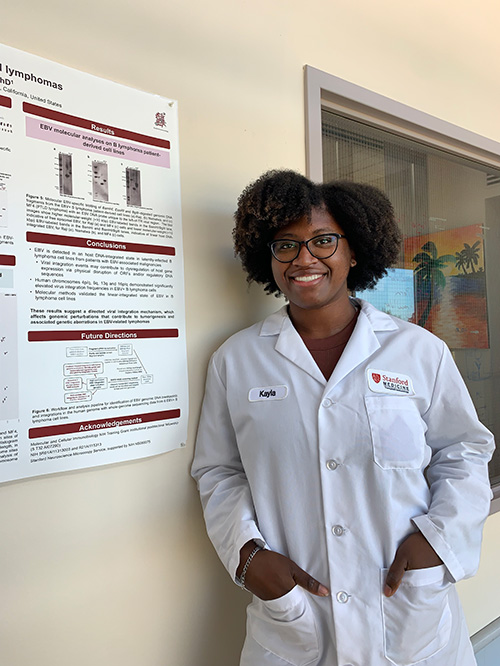 A typical day for her in the research lab includes pipetting, tissue cultures and cell cultures.
Outside of the lab, Jenkins was able to participate in scientific seminars to help navigate her through the Ph.D. process. She was also able to meet Stanford faculty and other Ph.D. students. 
After the summer was over, Jenkins realized she could finish her degree at JCSU online and continue her research. Terik Tidwell, who worked in the Smith Tech Innovation Center, helped Jenkins secure funding for room and board so she could continue her efforts.
She is excited to continue her research with her Stanford mentors Josselyn Peña, Wenming Zhang and Jiaying Toh as well as her principal investigator Dr. Sheri M. Krams.  
Jenkins credits Tidwell as well as Dr. William T. Booth II, former assistant professor of Chemistry, and Dr. Mark Dugo, current assistant professor Biology and Ecology, for inspiring her toward a career in research and helping her apply to and receive funding for her research program at Stanford.
She wrote a Senior Investigative Paper (SIP) in collaboration with Booth and Dugo to develop a laboratory protocol for the detection of arsenic in surface water. Dugo says he appreciates her desire to not only research her interests, but to diversify her engagement with other STEM subjects like chemistry and sustainability. 
"Kayla recognizes that being educated on broad topics of sustainability is necessary for learning not only how our bodies are affected by the condition of our immediate environment, but how we can best sustain our food, energy and water," he said.
Jenkins encourages students to get a jumpstart on their future career goals by talking to professors who can help connect you to experiential learning opportunities outside of the classroom.
"That's one of the things I love about JCSU," she said. "We're such a small community, but our faculty is really looking out for us. They're there to uplift us and to be our cheerleaders. STEM is a scary field and it can be difficult, but there are really awesome people who are willing to help you no matter what stage you're in."