March 20, 2023

The Big Payback Film Co-Directors Inspired by Passion from Students
Charlotte, N.C./March 20, 2023 – Johnson C. Smith University students kicked off the week with an inspiring program focused on reparations as a response to "The Big Payback," a film that follows a city alderman's fight for local reparations.

The program featured appearances from "The Big Payback" co-directors Whitney Dow and seasoned actress and activist Erika Alexander. 

"We like to think our film is a sort of activator," said Dow. "Most Americans look at reparations or even the idea of healing the rift between Black and white Americans as something that's so bit it's almost impossible."

"Conversation is a natural thing, and its also how people can get to a solution," added Alexander. "It's also how people get educated."

Dow and Alexander each had their own unique introduction into social justice. 

Dow worked in advertising, but decided to pivot to film-making. His first-ever film came to him via a news story on James Byrd Jr., a man who was chained to the back of a pickup truck and dragged to death in Jasper, Texas in 1998.

"That moment really shook me to my core and made me reevaluate what I thought about my country, myself and the idea of what race relations really are," he said.

For Alexander, the introduction into social justice was organic. After being asked for many years to play stereotypical roles and realizing it was only people her age who were Black or brown being asked to do so, she decided she wanted more and became a storyteller.

Growing up, her father served as a pastor, and her mother was a social worker and teacher, so serving people always felt like a part of her DNA.

"It led me to politics," she said. "It came from being inside of storytelling, but not having much agency."

The actress, who is known for her roles on The Cosby Show and Living Single, began meeting with political leaders like Stacey Abrams and Hillary Clinton. She became heavily involved in organizations aimed to educate women to become political leaders, and also started a journey into telling Black history with her first film "John Lewis: Good Trouble."  

Dow and Alexander teamed up for "The Big Payback" and decided to further the conversation with a reparations debate tour, which will stop at each of North Carolina's 10 HBCUs to discuss the film and steps students, faculty, staff and the community can take to open up the conversation around reparations.
Image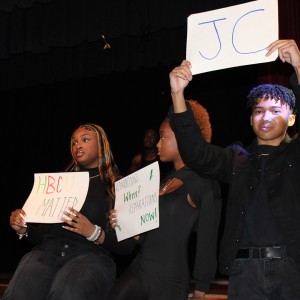 JCSU's event began with meaningful musical, dance and theatrical performances from JCSU students and was followed by a data-driven academic presentation from students Mariah Mitchell '24, Gabrielle Rice '24 and Mark Billups '23 who had engaged in research on the subject in classes taught by Dr. Laurie Porter, associate professor of Communications.

The students presented the HBCU Choice Bill, which they modeled after the experience of Harvey Gantt, Charlotte's first Black mayor, who was initially accepted at Clemson University in South Carolina. After the administration learned he was Black, they rescinded his acceptance.

As a taxpayer in South Carolina, Gantt and his family sued the school stating he had a legal right to attend the public college their tax dollars had helped fund over the years. After a legal battle that escalated to the U.S. 4th Circuit Court of Appeals, he became the first African-American admitted to the university, from which he graduated with honors in 1965.

With Gantt's story in mind, the students formulated their bill, which would turn JCSU into a publicly funded institution.

"All we want is money coming to the school so we can have more supplies and better resources to improve our education," said Billups. 

The students explained that, with federal and state funding, JCSU could embrace non-traditional students, reopen shuttered residence halls, develop summer and online programs and work with other colleges and universities, all of which would increase revenue and lower tuition costs.

"I have to say that I admire that you're bringing this up and even creating a bill," said Alexander. "This is your leg of the race. You're all young and have the energy, mind, intelligence, networks and power to change things."

Following a question-and-answer period, students, faculty and staff headed to the Millennium Dining Hall where Ben & Jerry's Ice Cream was waiting with a sweet treat. Ben & Jerry's is one of the only companies that has emphatically supported reparations, and is a loyal sponsor of "The Big Payback." 

Attendees were invited to fill out a postcard to be sent to the Biden-Harris Administration urging them to pass H.R.40, which is the Commission to Study and Develop Reparation Proposals for African-Americans Act.
Visit www.BigPaybackMovie.com today to watch the film and to access resources to help you create your own social justice impact.