March 15, 2023

Charlotte, N.C./March 15, 2023 – What if Johnson C. Smith University Criminology students could step into a career in law enforcement with more confidence in their abilities thanks to enhanced training at the undergraduate level?

Thanks to a simulation donation from Ti Training, JCSU students can immerse themselves in more than 800 simulated scenarios that will test their abilities and educate them on proper use of force.

A ceremony and demonstration were held in Henry L. McCrorey Hall on Monday, March 15. Attendees included students, faculty, staff and local law enforcement personnel.

Contrary to popular belief, use of force is defined as the amount of effort required by police to compel compliance by an unwilling subject. This encompasses when officers can not only use physical means to retrain a subject, but also when they can draw and fire weapons.

This simulation program focuses on the latter.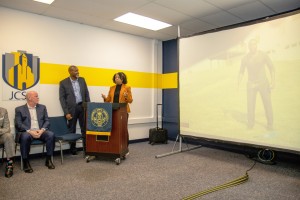 "The importance of this training can't be understated," said Todd Brown, vice president of training at Ti Training. "If we aren't having officers practice before they hit the street, we can't expect them to perform when they do hit the street."

The simulator program is valued at $50,000 which includes a projector; two cameras; a laptop; screen; speaker; and mock weapons such as pistols, OC spray (pepper spray), flashlight and a taser. The unique set up provides participants with a 1:1 aspect ratio, meaning the projection of the scenario is sized to reflect the stature and relative distance that would be expected if the event was really happening.  
 
Brown said that nearly 1,200 agencies across the U.S. utilize the simulator to train their officers. The program isn't available at most four-year institutions unless they are a law enforcement academy.

Bethune-Cookman University was the first four-year university to receive the Ti Training simulation program. Dr. Randy B. Nelson, who serves as the director of Center for Law Enforcement and Social Justice at Bethune-Cookman University, oversees his university's simulator program and is assisting Ti Training in leading the charge to get these simulators in the hands of programs across the country.
According to Nelson and Dr. Nicola D. Bivens, associate professor and program coordinator for the Criminology program at JCSU, the simulation program is an important experience everyone can learn from.

"A typical situation in the program allows the participant to adopt the role of a law enforcement officer to respond to a call for service, such as a school shooting or a robbery," said Dr. Nicola D. Bivens, associate professor and program coordinator for the Criminology program. "They then are faced with encountering unarmed citizens, armed suspects or hostages and are faced with making a split-second decision, which can have fatal consequences for themselves, unarmed citizens and others."

Criminology major Jamonte Gray '23 had the opportunity to use the simulator and he says it changed his perspective on not only as a graduate of the Criminology program, but as a citizen.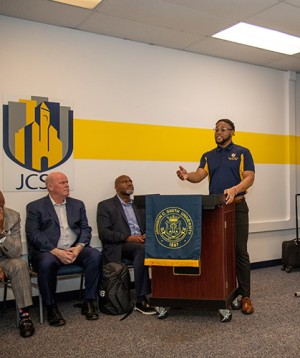 "The simulator gave you only a couple of second to think," he said. "I realized I had to make a fast decision, but the smartest decision. I had to realize I was there for leadership and support and not just to squeeze a weapon. This simulator is definitely going to change a young person's mentality when it comes to the law enforcement field."

Mistrust of law enforcement is statistically heighted in communities of color due to a history of harsh violence and over-policing. Since the start of the Black Lives Matter movement in 2013, there has been an exodus of police officers from the field. 

But excessive use of force and violence toward communities of color has roots in slavery and the years following emancipation. 

"We cannot ignore the fact that slave patrols are one of the four early American influences on modern day policing," said Bivens, who also mentioned a number of race-related policing incidents in the mid-to-late 1900s. "As such, the negative relationship between Black and brown communities and the police is centuries old. These negative and oftentimes fatal citizen-police encounters are inevitable. That's why diversity and inclusion are critical."

The simulator can put participants in diverse environments to help them think before they act. This can help them understand some of their internal bias, which can be corrected by an instructor during simulation sessions.

Instructors can also choose different paths for the simulation. They could make a suspect act aggressively or even surrender and follow commands. It is up to the participant to engage in the simulation and use their observation skills to make the best decision possible.

Bivens said given a mistrust of law enforcement, few Criminology majors choose a career in law enforcement, but they do take up professions in the criminal justice field. She hopes this simulation program will help guide students to careers in law enforcement so that the field becomes more diversified.

"Changing the views of our students may serve as a catalyst for more to consider careers as sworn officers and better diversify the law enforcement profession," she said. "Currently, only one in eight law enforcement officers are women, despite making up 50 percent of the population, and Black people make up approximately 12 percent of the population, yet only 10 percent of officers."

Brown and Bivens both indicated interest in getting faculty, staff, administrators and community members involved in the training to help the public better understand police decision making and improve observation and communication skills. 

For more information on the Criminology program at Johnson C. Smith University, or the new simulation program, visit www.jcsu.edu/academics/undergraduate-program/criminology.