November 7, 2022

Charlotte, N.C./Nov. 7, 2022 – The Honorable Marcia Fudge, who serves as the first Black female US Secretary for Housing and Urban Development, visited campus (in her personal capacity) along with Congresswoman Alma Adams to encourage students to vote in the 2022 election.

"I want to talk to you about hope," said Fudge to the students seated in Biddle Auditorium. "So many students don't have hope in this country. I need you to understand that what you think and believe can be a reality. I need you to succeed. I want to know that what is left of my future and your future is left in good hands."

Students, faculty and staff came to the event, excited to meet and learn from their elected officials.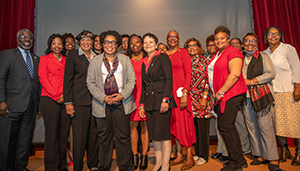 One student, Brandi Barron '23, said hearing from Fudge and other representatives gave her hope for a brighter tomorrow.

"To have representatives come on a small campus like JCSU's reaffirms to me that we can have hope in our elected officials," said the Communication Arts major. "We can leave this event with hope in our government and a good word to tell our peers."

The goal of the event wasn't just to encourage those in attendance to vote, but also to encourage them to talk to their friends and family about the importance of voting, especially within the Black community.

"Many people don't understand that Black history is American history," said Fudge. 

"Somebody is going to make a decision for or about you, most of the time without you," added Adams. "So, you need to either do what I've done and what Secretary Fudge has done. Run for office and make those decisions from the inside, or you need to control those of us, including myself, who are making those decision on your behalf."

Johnson C. Smith University will continue in its traditional Bull Rush the Polls event on Nov. 8, 2022, Election Day.
Students, faculty and staff are invited to dress in their best Gold and Blue and march to the local polling station, Wallace Pruitt Recreation Center, to show support for voting.

Students who are registered to vote with their JCSU address will be able to vote at this location if they haven't already. The march will begin at 1 p.m. on The Block.

Giveaways and "I Voted," stickers will be available for local voters as they exit the polls until around 3 p.m. For more information on voting, visit https://www.jcsu.edu/bull-rush-polls.