September 7, 2023

Charlotte, N.C./ Sept. 7, 2023 – Hundreds of new Golden Bulls joined together Thursday morning in the Jane M. Smith Memorial Church for Freshman Convocation.
The convocation, which is a rite of passage for all new Smithites entering the storied University, featured the bestowing of cords and pins as new students recited the honor code and received official greetings from their elected student leaders, administration and Dr. Valerie Kinloch, 15th president of JCSU.
The event also celebrated the 100th anniversary of the name change from Biddle University to Johnson C. Smith University.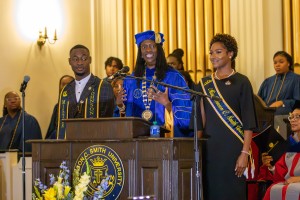 "I hope you arose this morning focused on the untapped potential that lives inside of you," said Dr. Karen D. Morgan, senior vice president of Academic Affairs and chief academic officer. "You will leave a legacy that honors the past, present and future of JCSU. You are now a Smithite."
After an introduction from Mister JCSU Kofi Asafu-Adjaue '24 and Miss JCSU Aliyah Thompson '24, Kinloch took to the podium to address a sea of bright-eyed students.
Kinloch, an educator with an extensive background in English and literature, referred to the powerful words of poet Audre Lorde during the convocation address. Lorde, a writer, professor, civil rights activist and intersectional feminist, wrote about the power of breaking the silence.
As she looked around the crowded chapel, Kinloch noted that fear can breed silence, making it difficult to speak up in times of turmoil. She said it is up to each of the members of the class of 2027 and the entire JCSU community to break through fear to transform silence into language and action.
"As you settle into your lives here at JCSU, I hope you will share with me a commitment to language," she said. "It's time to break the silence that often separates us. Let's breathe life onto this campus and in our classrooms."
Kinloch ended her speech by saying that her mission is to uplift Black lives and amplify Black excellence in Charlotte and beyond, a worthy cause she called students, faculty and staff to join. 
She said JCSU is uniquely positioned to accomplish that mission.
"This new era of excellence places students at the center of what we do here at JCSU," she said. "We must answer the call to exist in this world as interconnected beings. The journey will not always be easy, but take heart in this truth: the work you will do here and in the world isn't just needed, but critical."